Steven Cade Concert Ticket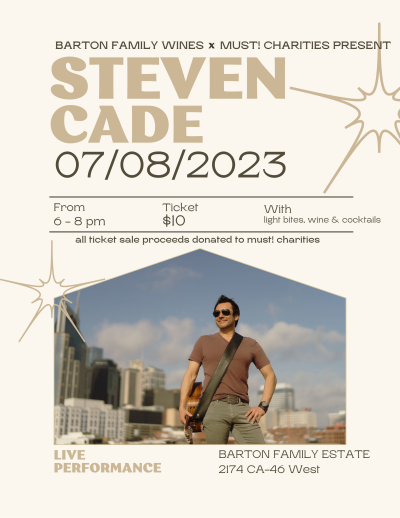 Sold Out
Join us for an evening of country music, light bites, cocktails and wine. 100% of ticket proceeds are donated to Must! Charities.
ABOUT THE ARTIST...
Steven Cade is a Houston, Texas born, Nashville-based, award-winning modern country artist and songwriter. He arrived to Nashville by way of California. Cade has captivated and energized crowds across North America with his signature sound. He infuses contemporary pop elements into country-influenced songs, creating a unique slant on traditional country music. "My goal is to write, create, and perform music that speaks to people about everyday life, inspires and helps them through challenges, while spreading a positive message," states Cade." He tours nationally for his Giving Guitars Foundation to benefit shelters and agencies helping homeless families and youth.
Cade has been considered for 9 GRAMMY nominations and was inducted into the California Music Hall of Fame along with LeAnn Rimes. Other accolades include winner of the Josie Music Award for Modern Country Artist of the Year at the Grand Ole Opry, the Durango Songwriter's Expo, and 'Best Country' at the Wine Country Music Awards. "What I Really Want to Say" topped the New Country Artist Radio chart at #1 for 4 weeks, and the video aired on GAC and Heartland. Cade's CD, What I Really Want to Say, debuted in the iTunes Top 100 Country Chart.
Cade has co-written with industry notables such as Liz Hengber, (Sara Evans, Reba, Brooks & Dunn), Byron Hill (George Strait, George Jones, Toby Keith), Skip Black (LoCash, Tyler Farr, Craig Morgan), Brian Maher (Taylor Swift, Emerson Drive, Justin Moore), and Jeff Cohen (Sugarland, Big & Rich, Santana).
Cade is a member of the Country Music Association, Academy of Country Music, and GRAMMY Recording Academy. Cade has been featured with Blake Shelton, Eric Church, Carrie Underwood, Frankie Ballard, Darius Rucker, Shania Twain, Gavin DeGraw, and many others. Steven Cade's songs are frequently found streaming on the same playlist as Keith Urban, Blake Shelton, and Rascal Flatts.