Soul Mate Re-Released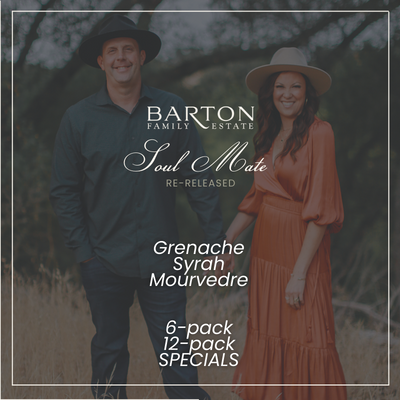 2019 Soul Mate Red - Up to 40% off!
6-pack of Soul Mate $220 (retail $330) - $15 shipping
12-pack of Soul Mate $400 (retail $660) - $1 shipping
(no additional discounts apply)
The original Soulmate label had a generic love story on the front that was written by the label designer. After Joe met Jenny he said someday he would put his own love story on the label. At their wedding he surprised her with magnums of Soul Mate at each table and the love story on the label had been replaced with his vows to Jenny. This is how the labels read today...
My vows to you
I knew you were the one when I could not sleep knowing my reality was better than my dreams. You have the keys that unlock my heart and the locks that fit my keys. You have made my life come to life. We are not perfect, but what we are together makes it feel like it is. You make me whole when I am broken, strong when I am weak, and give me purpose when I am lost. My truest self is with you, complete and full of anticipation. I see things now that I never saw before. You have given me courage to face what I fear and change what I must. You are my true love, my dream come true, from now until the end of time I give my heart and soul to you.
Love for life, love forever.
+ Blend 45% Grenache, 32% Syrah, 23% Mourvèdre
+ Vineyards Glenrose, Adelaida District; Paper Street & Barton Estate, Willow Creek District
Delicious olallieberry, boysenberry and raspberry preserves, with subtle undertones of thyme and black licorice. Elevated notes of Tahitian vanilla and cardamom. Reminiscent of childhood days spent enjoying Fruit by the Foot and Razzmatazz! Soul Mate Red pairs perfectly with mountain view camping trips with your soulmate! If that's not the pairing you're looking for, a bone-in pork chop does the job too!